BREEDING MARINE AQUARIUM FISHES: OPPORTUNITY OR THREAT FOR THE LOCAL FISHING COMMUNITY?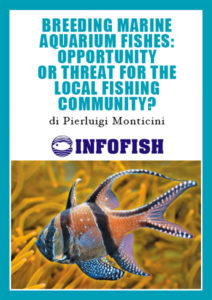 From an environmental point of view, breeding marine aquarium organisms helps to mitigate exploitation of natural ecosystems and reduce the catch of non-target species as well as the use of destructive fishing methods such as cyanide. It would allow full control of the supply chain, and supplies could also be continuously available at more stable prices. Unfortunately, these breeding activities could potentially deprive family farms or small-scale fisheries of a source of additional income. 
Introduction
The Food and Agriculture Organization of the United Nations (UN-FAO) defined the word 'aquaculture' as: "… the farming of aquatic organisms, in inland and coastal areas, including fish, molluscs, crustaceans and aquatic plants. Farming implies some sort of human intervention and the individual or a corporate ownership in the rearing process, to promote production, such as stocking, feeding and protection from predators" (FAO, 1995).
---
---